Drive - Walk - Bicycle Through History!
A Guide to the Covered Bridges of Parke County, Indiana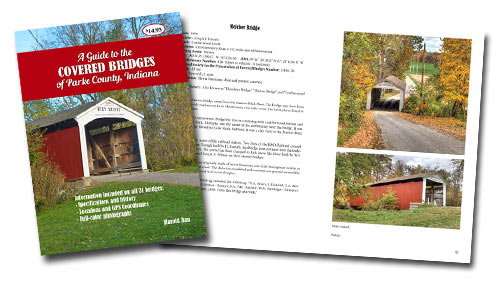 This guide will help you easily locate, explore and enjoy the thirty-one historic covered bridges in Parke County.
Each of the 72 pages in this book is packed with information about the covered bridges of Parke County, Indiana including:
Covered bridge history and design
Biographies of the bridge builders
Color coded routes and locations
Specification information for each bridge
Interesting facts about the bridge and surroundings
Multiple full-color photographs of each bridge
Global Positioning System (GPS) coordinates are provided for easy navigation
Order your copy of A Guide to the Covered Bridges of Parke County, Indiana
Price: $14.95 (Includes Free Shipping!)
About the Author - Harold Rau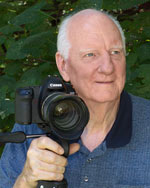 Some years ago, my interest in photographing covered bridges sparked a trip to Parke County, Indiana. On my first trip I was able to locate some of the bridges but many were difficult to locate using the maps. Out of this confusion, an idea was born. This guidebook is the reality of that idea – an easy to use guide, that not only provides the locations of the bridges but information about their builders, history and lore. A must for every covered bridge enthusiast!
Reader Comments
My wife, Nancy, and I first visited the covered bridges of Parke County in the fall of 1967. We joined the Indiana Covered Bridge Society at the ICBS booth at the Covered Bridge Festival. We've re-visited Parke County many times. Over the years, we've collected several "guides" (typed/mimeographed/stapled papers, pamphlets, and paperback and hardback books). None compare in quality to yours. The photographs are gorgeous. The cover and binding should stand up to rugged use by travelers visiting the bridges. Inclusion of the bridges' G.P.S. coordinates identifies this as a 21st century book. The four-page discussion of covered bridge design and builders is just the right length. I really like the pair-of-pages-for-each-bridge layout and the "History" paragraphs associated with each bridge. This is the "essential" guide to Parke County and its covered bridges. - Bill Brandenburg, Member, Indiana Covered Bridge Society
Just want to drop you a short note to say how much I enjoyed and used your Guide to the Covered Bridges of Parke County. My husband and I visited 9 bridges one day and 1 more as we left the area the following morning. I used your book to map out what we could fit into our allotted time. It is by far the best resource available for anyone wanting to visit the Parke County covered bridges. Your photographs are excellent and after visiting I appreciate the effort required to get some of the shots. I will keep the book and perhaps on another trip back to the land of our roots, we'll be able to visit a few more. - Linnea Schlobohm
Harold, I purchased your book last week at the Parke County Maple Festival and just finished reading it. I want you to know how much I enjoyed your book. I live one county north of Parke County and haven't seen all the bridges even though I've lived near them all my life. I look forward to making a couple trips and visiting each one with your guide book in hand. Great work! - Joe
Harold, A really great presentation of the Covered Bridges of Parke County. Covered bridges are a hobby of mine and I have a fairly nice library. I'm very happy to have this book in my collection. These are the best photos I've seen! - Edward
14 Miracles - A Family's Battle to Save a Historic Treasure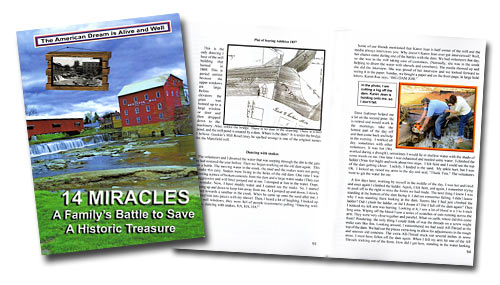 This book is the captivating story of how entrepreneur Mike Roe was one day driving through a beautiful countryside in Indiana and discovered a covered bridge over a waterfall and a proud old mill overlooking it all. The waterfall looked destroyed and the mill looked very sad. Mike saw, love at first sight! His wife saw an eyesore. Years later, Mike saw a homemade sign nailed to the building, "Mill For Sale." A dream come true! But soon it became a battle to survive.
Mike shares the stories of acquiring the mill, restoring it and the fourteen miraculous events that happen along the way. It's a light hearted, easy read book that is hard to put down once you open it. Follow Mike, Karen Jean and their family through their adventures as the family together battle to save a historic treasure.


Order your copy of 14 Miracles - A Family's Battle to Save A Historic Treasure
Price: $15.00 (Includes Free Shipping!)
About the Author - Mike Roe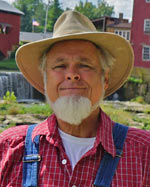 "I'm just an old fart in an old mill building. I feel I have an important story to tell. I'm not a writer and don't pretend to be. I have done the best job of writing I can with the abilities I have. Remember, I'm just an old fart in an old building. The history and the stories in this book are what I have learned, what I have been told and believe at this time." Mike Roe



Take a Virtual Visit of the Mill
Reader Comments
It was a real joy to read "14 Miracles." Mike was an early supporter of my book, "A Guide to the Covered Bridges of Parke County, Indiana," when it was only a dream and a rough copy. He saw the potential and the same is true of his book, 14 Miracles, when he first talked to me about writing it. Now that it is publish it's fun to read. My wife started reading it and said, "I can't put this down!" I hope you will find the book as captivating as we have. Great job Mike! Harold Rau, Author
Special Offer - Buy both books for $25.00!
(Includes Free Shipping!)